Get ready to experience the ultimate racing Saturday at the Formula 1 Heineken Dutch Grand Prix 2023!

On Saturday, the excitement ramps up as you witness two exhilarating races (F2 and Porsche Mobil 1 Supercup) and the nail-biting Formula 1 Qualifiying. Before the action kicks off, enjoy a scrumptious brunch at Beachclub Sablon and prepare yourself for a day of adrenaline-pumping racing. Don't miss out on the Porsche Supercup Qualifications and the Formula 2 Sprint Race, and join us for a night of revelry with live music and a DJ at Beachclub Sablon.

This is a once-in-a-lifetime opportunity that you won't want to miss. Join us for an unforgettable weekend of racing, food, drinks, and entertainment. We can't wait to see you there!
Saturday
On Saturday, there are two races (F2 and Porsche Mobil 1 Supercup) and Formula 1 is all about qualifying.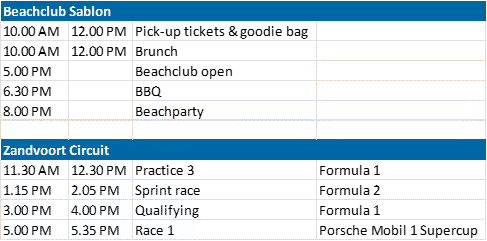 Hospitality arrangement:
We are very happy to meet you both at the F1 track and at the Beach Club. You can take advantage of the hospitality package that is waiting for you at Beachclub Sablon. Please note that unfortunately we cannot provide catering at the circuit due to strict regulations. The costs for eating and drinking on the circuit are therefore at your own expense.
If you have any special dietary requirements or allergies please let us know. You can send us a e-mail with your preferences.

Attention: you can only enter the track once. Re-entry is not possible in any way.
How do you get to the location?
By car
We strongly recommend that you do not come by car because there is no possibility of parking at the location. Are you by car anyway? Than take the Park+Ride. Do you want to quickly and easily get to Grand Prix Zandvoort and back? Park your car and take the bus! Q-Park is collaborating with Connexxion and the Dutch Grand Prix organization. Together, we offer a Park+Ride ticket that takes you within a 250-meter walk from the main entrance. You pay €45 for a parking reservation. For this amount, you can park all day, including shuttle transportation (round trip) for a maximum of 5 people. Check this link for more information.

With Public Transport
Please check 9292 for the actual route and schedule.
For other possibilities please check Transport | Dutch Grand Prix (dutchgp.com) and get your own personalized advice of how to travel.
IN CASE OF EMERGENCY:
For emergency services please call 112
For less important emergency's WhatsApp Bart Snuiverink - Heisterkamp.
"The only place that matters is first"